Hebrew Wizards Where the magic of learning continues...


New Location for all High Holiday Services: Services will be Held in a Beautiful Large Open Tent at Rabbi Deb's Home.
Better 2 Serve
New This Fall. Making The World Better Together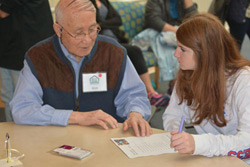 A new community service program for all ages. After receiving a Legacy Heritage Grant for 2 years to launch the Better Together program, we now can enjoy Hebrew Wizard's very own Better 2 Serve Program. This community service outreach program is a great way to make a difference. We will be working with seniors, helping to rescue pets, assisting at homeless shelters, bringing activities to rehab centers, shopping for the elderly and singing our original songs. The Wizards Better 2 Serve program is a way we can lend a helping hand. Monthly Saturday activities have been organized from 10:45 - 12:00pm. Each time we meet, we create Mitzvah Moments. Please check back here for information on dates and places that you can assist those in need.
Better 2 Serve Schedule 2022-2023
September
Sat 14 The River House
10:45am - 12:00pm
October
Sat 19 The Mews
10:45am - 12:00pm
November
Sat 9 King street Rehab Center
10:45am - 12:00pm
Sat 16 Multi-Faith Concert
7:00pm - 9:00pm
Sat 19 Men's Homeless Shelter
5:00pm - 6:30pm
December
Sun 15 Charity Carnival
9:30am - 12:00pm
January
Sat 11 King Street Rehab
10:45am - 12:00pm
February
Fri 7 Share Shabbat @ Atria
4:45pm - 6:45pm
Sat 29 King Street Rehab
10:45am - 12:00pm
March
Sat 21st The Mews
10:45am - 12:00pm
April
Sun 12 Homeless Shelter Easter Breakfast
7:50am - 9:15am
May
Sat 14 The River House
10:45am - 12:00pm
Sun 15 Mitzvah Day @ Wizards
9:30am - 12:00pm
Hebrew Wizards is a not for profit 501(c)3 organization.

© HebrewWizards, Inc. The Hebrew Wizards name, symbol and all contents of this website are copyrighted. All rights reserved.