All High Holiday Services to be Held in a Beautiful Large Open Tent at Rabbi Deb's Home.
WIZARDS II
AGES 8 - 12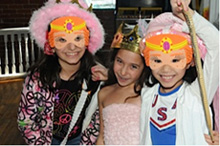 The Wizards II class centers around real Hebrew learning and decoding, mastering the Jewish Holidays and understanding why celebrating them brings us closer as Jews. Learn about the Bible People as we act out the stories together in costume. Wizards love K'lal Yisrael, the importance and value of taking care of each other. Join the fun and excitement of a Hebrew learning program through Color War games and races. Wrestle with thoughtful, provoking questions on Jewish ethics and values in You Be the Judge, and find inspiring Jewish role models in Famous Jewish Wizards of the past.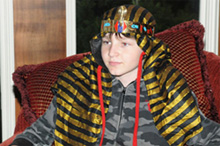 We believe our children should begin their preparations for their B Mitzvah ceremony in 3rd grade during our Wizards Tefillah Time which is a 45 min dedicated camp-style experience using songs to teach. Discover the ancient wisdom that we can glean from our Torah through our insightful discussions and Rabbi Deborah story time. Whether its Jewish history, Hebrew or Bible learning, the Wizards do it with a "fun spin" and in an inclusive manner. Special programming is saved for the end of the year as we learn about Israel, the Holocaust, and making meaningful mitzvahs. We culminate in a school-wide Wanna Be A Wizard game which is a day dedicated to asking questions centered around the inspiring ideas found in over 60 educational study buddy paks and Wizard Boards.
Hebrew Wizards is a not for profit 501(c)3 organization.

© HebrewWizards, Inc. The Hebrew Wizards name, symbol and all contents of this website are copyrighted. All rights reserved.