All High Holiday Services to be Held in a Beautiful Large Open Tent at Rabbi Deb's Home.
| | |
| --- | --- |
| Deborah Tarasow Salomon Founder/Director and Rabbi | |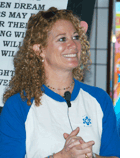 Deborah Tarasow Salomon is the Founder/ Director and Rabbi of the Hebrew Wizards School and the Wizards Congregation. Her focus for the program is to teach children how to love Judaism by intertwingling a relaxed and creative school environment with the spirit and fun of summer camp. Deborah has hired an enthusiastic and talented staff, created an excellent innovative and fresh curriculum to form the Hebrew Wizards School.

Deborah is the daughter of a Rabbi, and her parents were both leaders in Jewish education in various schools throughout the United States. She was raised with a strong conservative Jewish background attending Saturday morning services weekly, and participating in various Jewish and Hebrew speaking summer camps. Her education culminated with a pilgrimage to Israel with USY in 1980. She began her teaching career tutoring B Mitzvah students when she was 14.

As an adult, she taught students at Temple Sinai in Roslyn, conducted adult Hebrew courses at JCC in Harrison and she was the lead teacher of 2nd, 3rd, 5th, and 7th grades at Temple Sholom Religious school from 1995-2005. She graduated from the State University of New York at Binghamton in 1985 with a degree in Economics and a Minor in Hebrew. She received her M.B.A from Pace University in 1990.

Rabbi Deborah was ordained in January of 2013 by the Jewish Spiritual Leaders Institute under the leadership of Rabbi Steven Blane.
| | |
| --- | --- |
| Jon Cobert "Music Man" Composer/Pianist/Vocalist | |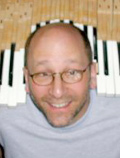 A composer/pianist and vocalist who has played live with John Lennon, John Denver, Bruce Springstein amongst others. He works currently with Tom Chapin and earned 5 Grammy nominations for his work as producer on Tom's recordings. Jon is a songwriter and has released a solo album "Here's Your Canoe". He received his music Theory and Composition degree from N.Y.U. Jon has a Conservative Jewish background and has a love of being Jewish. He currently lives in Chappaqua with his wife and they have 2 adult children. Jon has worked with Hebrew Wizards on many of our special occasions and has been our pianist during High Holiday services. Jon's biggest gift is that he is musical genius and that he loves working with children as he fuels their passions through music. Learn more about Jon at: joncobert.com
| | |
| --- | --- |
| Lizzie Peress-Swan Vocalist and Guitarist | |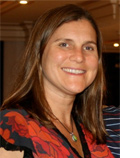 Lizzie teaches elementary and pre-school music and movement classes in Stamford and New Canaan CT. It was while working as a musician and creative arts therapist at the Jewish Home for the Elderly in Fairfield, CT, that she began to learn first hand the amazing power of music to teach, heal, and connect people of all ages and abilities while creating a shared consciousness at the same time. After becoming a mother, Lizzie carried these lessons with her when she formed the family rock band the Swingset Mamas with pianist Marlowe Bechmann. The award winning Swingset Mamas perform all over the country at schools, festivals and family events spreading their message of "connecting families through music". A graduate of the University of Massachusetts/Amherst, Lizzie is passing on her love of a Jewish identity to her two children at Hebrew Wizards who also write songs, sing and perform whenever they can. Find out more about Lizzie at www.swingsetmamas.com.
| | |
| --- | --- |
| Alexandra Klein Assistant Director of Education at Hebrew Wizards | |

She was a born and raised New York City where she attended Riverdale Country School then graduated from St. Marks, a boarding school outside of Boston. Alex graduated cum laude from George Washington University with a degree in Communications. After a decade working in television for CNN and the Discovery Channel, she decided to return to school to follow her passion for educating young minds. Alex attended University of Bridgeport where she obtained her Masters Degree in Education and has been teaching ever since. She has taught kindergarten and second grade in the Public School system in Darien, Stamford, and Phoenix, AZ. Alex is the mother of two incredible children, Sasha age 6 and Cassandra who is almost 4. After having her children, she decided to leave elementary school and teach preschool where she has been for the past six years. Alex lives with Steven, Sasha, Cassie in Glenville and they are so pleased to join the Wizard's Community.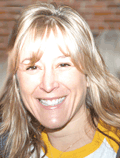 Gianna Bergman brings years of Hebrew Day School and Yeshiva learning to Hebrew Wizards. Having grown up in a conservative and traditional Jewish household, Gianna continues the Jewish tradition with her own family (she has twins in Wizards 2!). In addition to her Judaic knowledge, Gianna has been a Marketing Professional for 20 years. She earned her Bachelor of Science degree at Ithaca College, her Masters degree at Cornell University, and was a Teacher's Assistant in several classes throughout her six years of studies. Gianna brings knowledge, experience and a passion for helping children to the Wizards program.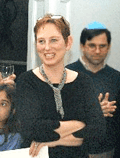 Karen Marks is the adult teacher on staff for the Mini-Wizards class. She is a marketing professional with 20+ years of experience. Her strong connection and appreciation of Jewish heritage and tradition is a result of being the daughter of Holocaust survivors. Karen attended Jewish summer camp for over 10 years, both as a camper and counselor, which left a strong impression that it should be fun to learn about Judaism! Karen loves being around children and is excited to be a part of the Hebrew Wizards program.
| | |
| --- | --- |
| Robert S. Salomon Jr. Chief Administrator | |
Robert S. Salomon Jr., "Buster"is the chief administrator for Hebrew Wizards. He has been a professional investment manager for more than 40 years. His passion is working with children, and he takes great pride in helping to raise 3 daughters. He is also an avid photographer and will be on-staff taking pictures of all the children and activities at Wizards. Buster is currently on the Board of the Stamford Mill River Collaborative and serves as Treasurer of Rye Country Day School where he is also a Board member. He received his undergraduate degree from Amherst College.
| | |
| --- | --- |
| Shira Zucker In-House Hebrew & B Mitzvah Tutor | |

Shira Zucker brings 17 years of experience as a Hebrew tutor to Hebrew Wizards. As a child she attended the Solomon Schecter Day School in Westchester and attended various Jewish Summer Camps. She continues to pass on her love of Judaism to her five children (ages 7-19). Shira teaches students who range from beginning hebrew learning to the more advanced chanting of prayers, Torah and Haftarah studying for B mitzvah preparations. She has also acts as a "private" tutor for many children in the Greenwich/Stamford area. Shira is excited to join Hebrew Wizards as our own private hebrew tutor for children in our B Mitzvah classes.