Hebrew Wizards Where the magic of learning continues...


New Location for all High Holiday Services: Services will be Held in a Beautiful Large Open Tent at Rabbi Deb's Home.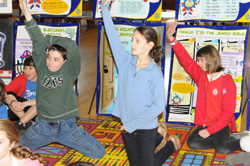 In the News!
In Cos Cob, 'Hebrew Wizards' Offers Children a Fresh Take on Religious Education
greenwichfreepress.com
Kindness Crusade Hits Greenwich YMCA
greenwich.itsrelevant.com
Hebrew Wizards spreading their magic
GreenwichTime.com
The Wizards Of Greenwich
TheJewishWeek.com
Hebrew Wizards experience a virtual Israel
GreenwichTime.com
Hebrew Wizards is a not for profit 501(c)3 organization.

© HebrewWizards, Inc. The Hebrew Wizards name, symbol and all contents of this website are copyrighted. All rights reserved.