New Location for all High Holiday Services: Services will be Held in a Beautiful Large Open Tent at Rabbi Deb's Home.
Share Shabbat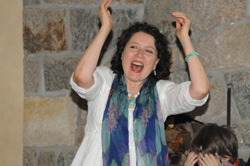 Hebrew Wizards families gather the 1st Friday of every month and light the Shabbat candles, sing songs, share dinner and enjoy a Sabbath night with new and old Friends. We welcome you into our home to join other Hebrew Wizards families and friends.
We begin at 6pm at the Salomon's home.
With mingling from 6 until 7pm, we enjoy appetizers and drinks as we get take the time to share stories Our Rocking Share Shabbat Service begins with traditional Shabbat songs, and the lighting of the candles followed by spirited songs, prayers and poetry.
We will always touch upon the lessons of our Torah and how we can apply the knowledge we glean into our everyday lives. Following the service at 7:30pm, we enjoy a potluck dinner and make this monthly gathering a special time to catch up and relax from our busy lives. Please join us by RSVP to
Rabbi Deborah
.
Share Shabbats are held at:
6:00 PM - 9:00 PM at Rabbi Deb's
130 cummings Point Road
Stamford, CT
Ph:
+1 203-249-4036
Wizards Share Shabbats Dates 2022-2023:
Select Friday Evenings 6:00PM - 9:00PM


2022
September 9
In person pool party musical Shabbat
November 4
Zoom Shabbat
December 2
Zoom Shabbat


2023
January 6
Zoom Shabbat
February 3
Atria Senior Facility in Rye Brook
March 3
Zoom Shabbat
May 5
Zoom Shabbat
June 2
In person pool party musical Shabbat
Hebrew Wizards is a not for profit 501(c)3 organization.

© HebrewWizards, Inc. The Hebrew Wizards name, symbol and all contents of this website are copyrighted. All rights reserved.