Jewish Kids Groups
Hebrew Wizards at
Jewish Kids Groups
JKG
Hebrew Wizards is proud to receive a grant from the PELIE Group to replicate the Hebrew Wizards model of Philosophy, Methodology & Curriculum in Atlanta, Georgia. Together with Ana Fuchs, the founder of Jewish Kids Groups, The new school will open in August of 2012. We are extremely excited with this collaboration as Ana understands that making Hebrew School "Fun" is our main goal. she employs the same methodology of intertwingling the spirit of summer camp with the knowledge of tradition Hebrew Schools. Hebrew Wizards cutting edge curriculum will be used to educate, stimulate and excite children, teens and families. For more information on Jewish Kids Groups www.jewishkidsgroups.com
A Ridiculously Cool Hebrew School
Ana Fuchs, Founder and Director of JKG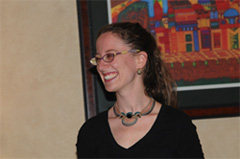 Remember that one great teacher you had? Your children will remember Ana Fuchs, "she is magical."
Ana Fuchs is a pioneer in the field of alternative Jewish supplemental experiences and has been instrumental in building Jewish Kids Groups, one of the only independent Hebrew schools in the country. Ana was named one of today's "most dynamic young Jewish leaders" and awarded the prestigious ROI fellowship by the Schusterman Foundation (2012); selected as a PresenTense Global Fellow (2011) for her cutting-edge work in the field of Israel education; and named one of JESNA's 2011 Jewish Education Innovators.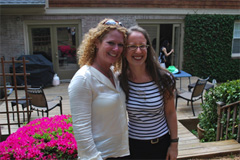 Ana has formal and informal Jewish teaching and administrative experience in supplemental Jewish education, including teaching in religious schools, leading Israel trips, bar-mitzvah tutoring, developing Israel curriculum, participating in educational seminars, and running informal Jewish kids programming. Research indicates that more and more families are opting out of giving their children a Jewish education; Ana aims to reverse this trend with her radically different Hebrew school.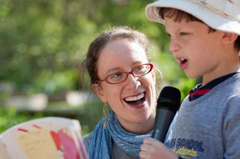 Jewish Kids Groups focuses on positioning each child for success and building memorable experiences while meeting each family where they are, Jewishly.Ana has a M.S. in Instructional Design and Technology from Georgia State University and B.A. in Jewish Studies and Middle Eastern Studies from Emory University.Ana happily eats, sleeps and breathes Jewish Kids Groups, but she also likes to travel to far-away lands, make pickles, read good books and play with Ella the kalba (dog).
Hebrew Wizards is a not for profit 501(c)3 organization.

© HebrewWizards, Inc. The Hebrew Wizards name, symbol and all contents of this website are copyrighted. All rights reserved.